Get the best possible deal with our financing options here at Sternberg Ford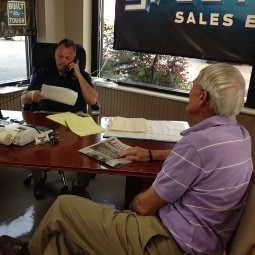 Finding a car you like is the first big step toward driving away satisfied. Fortunately, with our selection of Ford models and used cars for sale here at Sternberg Ford, that part is only too easy. The next big step is determining which financing options are right for you. Luckily, that part is pretty easy as well here at our Dale dealership. With staff on hand to help you find the right car payment plan and great relationships with local banks and lenders, there's almost no obstacle to getting you a great deal here at Sternberg Ford.
Loan or Lease? The Sternberg Ford Team Helps You Choose
With the expert guidance of our finance team, drivers across Dale find the perfect loan or lease for their budgets. Whether you prefer a lower monthly payment and the ability to trade up every couple of years with a new-vehicle lease, or you prefer the freedom to drive as many miles as you want and keep your vehicle for a long time with a loan and purchase agreement, we want to help. Unsure which of these financing deals is right for you? We'll walk you through each one step by step and, together, we can find the best route for you to get the new vehicle you need.
Jumpstart the Auto Financing Process in Dale
When you're prepared to make your next move, you can count on our friendly financing experts here at Sternberg Ford to help with all your financing needs and guide you through a smooth, easygoing financing experience. All you need to do is fill out our easy financing application, which you can do right from the comfort of home, and we'll be ready to start crunching numbers to help you get that much closer to owning the F-150, Escape, Explorer, Bronco Sport, or Ranger of your dreams.